I had started to write a step by step guide to sewing the Burda JJ 6009 pattern because so many people had noted how complex / unhelpful the instrutions are. I had made a really good start, but then every bit I did has been wrong when I've taken it back to my dressmaking class, so I've given up. Only on the tutorial though, I'll leave that for someone far more adept than me!
In the meantime I thought it'd be a good time to post up another one of my shirts, another 'challenge'! This one was made using New Look 6693. I was attracted to the label of 'Easy', and the informal styling.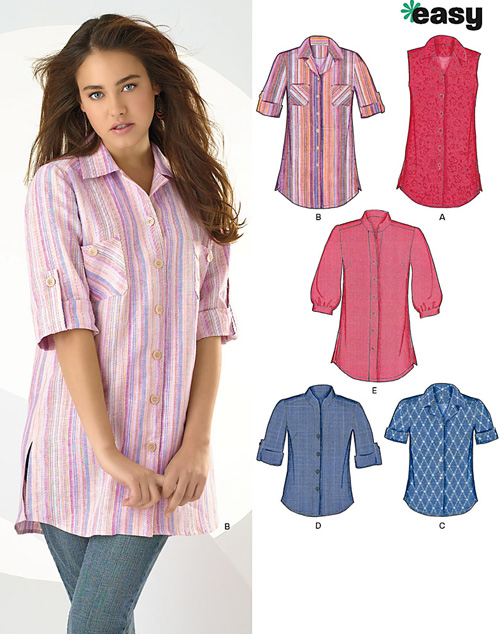 In the end I went for view C - It looks shorter in the body, and is a little more my style. I ended up chosing a heavy weight cotton, Itsy Bits by Andover Fabrics - I think it's a craft cotton. I paid a fortune at John Lewis, £18 p/m but it's been a learning experience... Half the price on the internet! I've never bought from
Tudor Rose
, but they're selling it for £9 p/m at the moment.
I also chose some mother of pearl buttons from John Lewis, though they don't match perfectly, I think they work! Back then I hadn't realised the importance of doing pre-washing to prevent shrinkage, but luckily I'd made it a little looser and it doesn't seem to have shrunk in the wash.
I've been told it's very 1940s, which sounds good to me! The cotton is so soft, the shape is relaxed, but formal enough for work - actually it's one of my favourite makes so far. Hopefully I'll get a better photo of it soon, styled up but until then here's just a snap on my little camera :) What do you think of the final product?